BeerHeadZ Retford are delighted to be one of the first pubs in the country to take delivery of the first two beers from the brand-new Abstract Jungle Brewery, which launched last week in Peterborough.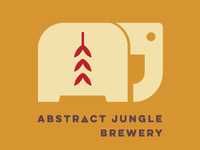 Abstract Jungle is the new project launched by ex-Blue Monkey brewer, Simon King. Simon has teamed up with Bexar County brewer Steve Saldana to upgrade and expand Bexar's existing plant and use it to output beers from each brewery.
Jackal, a 4.2% porter is described on RateBeer as "Mahogany with an attractive cherry red gleam, and a loose cream head; aroma of well done toast with some red fruit; sweet fruity taste to start, then becoming increasingly bitter from the well roasted malts; leading to a dry finish with some spicy English hops".
Pride, at 3.9% being reported as "A bright, pale amber pour with a loose white head; fresh grassy hop aroma; sweet grainy body with some weak tropical fruit and a clean crisp finish."
We spoke to Simon at the recent and excellent Nottingham Beer Festival and it was apparent that he felt his creativity was being stifled somewhat whilst at Blue Monkey, so we are sure we'll see some fresh and exciting beers from this new venture. Maybe even a collaboration or two with Bexar County, who knows?
We wish Simon the best of luck with Abstract Jungle.