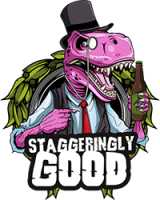 If you like riding dinosaurs – and let's face it, who doesn't? – we have just the beer for you coming to BeerHeadZ.
StaggerSaurus 4.0% is one of the first beers from brand-new Portsmouth-based brewery, Staggeringly Good. They are so new they haven't even opened their own brewery yet, brewing instead on the plant at Brewhouse and Kitchen at the Black Swan in Portsmouth.  The lads at SG tell us that as soon as they have their own kit up and running they will be producing their delicious beers in cask, so we are looking forward to that.
Says SG about the beer on their website: "The StaggerSaurus does not take kindly to your everyday bland IPA's. No, he's a far more refined beast who craves something tasty that he can really sink his teeth into. This scholarly reptile cares not for the bunkum hogwash others pass off as real ale and this stunning hoppy pale beer proves his exquisite palate should never be called into question… or else!"
Tasting Notes: Packed to the cap with Mosaic and Chinook hops, this ale is a delectable beast with a big bite! A rich golden colour carries with it strong aromas of summer fruits. The first taste to hit the palate is grapefruit then a light bitterness which softens quickly for a refreshing finish.
BeerHeadZ have already tried all of their beers (all in the name of research, you understand?) and can vouch that this is a corker. Prepared to mount the StaggerSaurus. Roooooaaaaarrr!! Staggeringly Good beer for Dinosaur Riders!  Available in bottles at BeerHeadZ from this Friday.